WELCOME TO ECUADOR.com
Ecuador is a country in northwest South America and translated from Spanish into English, means "equator"and is one three South America countries that the equator bisects.  Territory of  Ecuador also includes the Galapagos Islands which is an archipelago of 18 volcanic islands located in the Pacific Ocean and sits about 1000 km (612 mi) west of continental Ecuador.
Travelers to this popular South American tourist destination are treated to a diverse geography which spans from the sea level on the Pacific Ocean to an elevation of more than 6,300 m (20,000 ft') high in the Andes Mountains.
Ecuador boasts some of the tallest mountains on the South American continent and is home to 2 World Heritage Sites, 11 National Parks, 9 national ecological reserves, and 4 biological reserves, 31 active and dormant volcanoes, and 26 pristine beaches.
Country Profile
Ecuador is the 9th largest country in South America and comprises about 2% of its total land area of the continents land area. It shares its northern border with Columbia, eastern and southern border with Peru and with the Pacific Ocean on the west, and shares the Amazon river with Peru, Brazil and Columbia.  The country has 2,239km (1,453 mi) of coastline and over 2,000 rivers and streams.  From north to south (vertical measurement), the country measures about 450 km (280 mi) in length and between 40 km (25mi) and 241 km (150 mi) in width.
The head of the Ecuadoran Government is the President, and the government is divided into the Executive, Legislative and Judicial branches.  Ecuador is divided into 32 limited, self-governing council areas (administrative subdivisions) and comprised of 7 regions with administrative cities in Ibarra, Tena, Riobamba, Ciudad Alfaro, Milagro, Cuenca, and Loja).  Ecuador is a member of the United Nations, Organization of American States (OAS), and World Trade Organization (WTO).  In 2008, Ecuador was the first country to recognize Rights of Nature or "ecosystem rights".
Below is our country profile containing facts and information to familiarize you with Ecuador.
Country Name: Ecuador
Official Name: Republic of Ecuador, Republica del Ecuador (Spanish)
Government: Democratic Republic
Formation: Recognized by Spain in 1840, and its current Constitution enacted in 2008
Historical Nicknames: none
Country Motto: "Dios, patria y libertad" (Spanish); "God, homeland and Liberty" (English)
Government: Unitary Presidential Constitutional Republic
Capital: Quito
Largest City: Guayaquil
Select Cities: Cuenca, Santo Domingo, Manta, Machala, Portoviejo
Points of Interest: Galapagos, Cotopaxi, Basilica of the National Vow, El Panecillo, Cajas National Park
Nationality: Ecuadorian
Major Religions: Roman Catholic and Evangelical Protestants
Population: 17,300,000 (2018)
Life Expectancy: 73.9 years for males and 79.8 years for females
Largest Ethnic Groups: Mestizo, Afro Ecuadorian, Amerindian, White, Montubio,
Languages: Spanish plus 13 Amerindian languages
National Anthem: "Salve, Oh Patria" (Spanish); "Hail, Oh Homeland" (English)
Area: 284,516 Km (109,846 mi)
National Symbols: The Rose, Andean Condor- National colors yellow, blue and red.
Average Temperature: Daily: 70°F (21°C), Annual 64°F (17.8°C)
Climate: Winter runs from June to September, with the wet season from October to May.
Highest Elevation: Chimborazo, elevation of 6,263m (20,548ft)
Longest River: Maranon (1080 miles); Amazon is shared by three other countries
 Deepest Lake : Cuicocha Lake 100 m(656 ft)
Largest Lake: Laguna San Pablo, 4km (2.4 m)
Location: South America
Calling Code: +593
Geographic Coordinates: 2 00 S, 77 30 W
Currency: United States Dollar (USD; $) and Centavo coins (together replacing the Sucre in 2000)
Driving Side: Right
Time Zone: Two time zones, the mainland following Greenwich Mean Time (UTC-5). The Galapagos Islands are in a different time zone.
Internet TLD: .ec
Ecuador Travel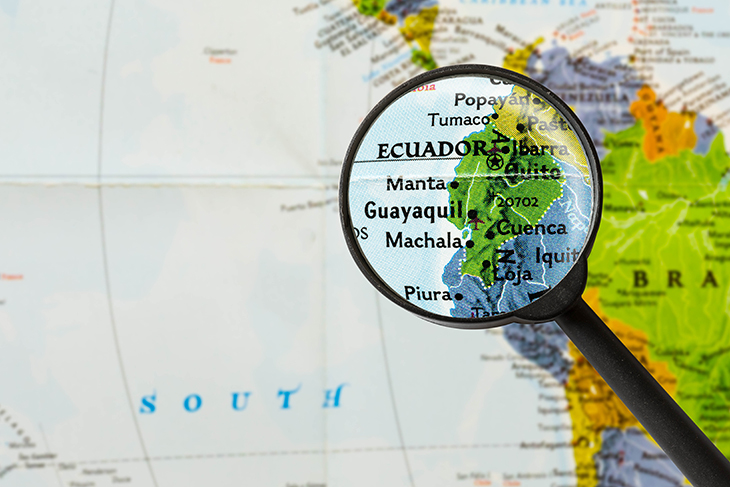 What currency is used in Ecuador?
The official currency of Ecuador is the US Dollar commonly represented by the symbols (USD; $). It replaced the Sucre in 2000.
Where should I visit when in Ecuador?
Ecuador is one of the lesser traveled tourist destinations in South America which means that many parts of the country have been undiscovered and unspoiled by masses of foreign visitors.
If you like outdoors, there are more than 30 protected areas and national parks such as Podocarpus National Park, wildlife and bird sanctuaries refuges like Pasochoa Wildlife Refuge  and  El Condor National Park. Ecological reserves and forests such as Ollinizas Ecological Reserve, Cuyabeno Forest Reserve, and Yasuni National Park are a must see.
For visitors preferring to explore cities and towns, Ecuador offer many rich and diverse cathedrals like the Metropolitan Cathedral in Quito, monasteries such as the one at San Augustine, as well as plazas Plaza de San Francisco in Quito, palaces Palacio Arzobispal, and historical parks like Guayaquil Historical Park.
When is the best time of year to travel to Ecuador?
Because of the diverse geography and climate, there is no "best time of year" to visit Ecuador. However, there are peak seasons with June to September considered the busiest. In most parts of Ecuador, January to May is the wettest, coolest time of the year. Average daytime temperature is about 70 °F (24°C) with nighttime temperatures more than twenty degrees cooler. Ecuador's proximity to the equator is misleading as the climate varies by region due to the differences in elevation that span sea level to the highest point in the country measuring 20,000 ft.
What are some of the "must see" destinations in Ecuador?
The Galapagos Islands are definitely on the list as well as the white sand beaches dotting the Pacific coastline in Atacames such as Tonsupa and Mompiche, and in Salinas. Other memorable activities include volcano tours in Banos, adventure travel in the Andes, and whale watching as humpback whales make their annual migration off the shores of Ecuador.
How expensive is Ecuador?
Youth hostels and accommodations are plentiful with season prices ranging between USD$10 and USD$15 a night. Mid-range hotels in the larger cities such as Quito range between USD$48 to USD$150 a night but bargains abound.  When planning your trip account for meals, ground transportation, entrance fees, and entertainment. flights, day tours, and rental car costs will vary based on your travel itinerary and length of stay. There are many river tours on the Amazon River as well as dozens of companies offering cruises to ports of call such as San Cristobal in the Galapagos Islands and the port city of Guayaquil.
Do I need a visa to visit Ecuador?
Depending on your citizenship and country of origin, a visa and other travel documentation may be required to visit or study in Ecuador. For most visitors, a visa is not required to enter Ecuador, but such stays are generally limited to 90 days. There is a special exception for visitors from Peru red. No visa is required if you are U.S. citizen unless you are planning to stay longer than 90 days. If you are planning to visit the Galapagos Islands obtain a Transit Control Card as it will be required.